Hey everyone!! So today's card and video is me experimenting and using several new-to-me tools lol.
First off - ink pad holders. Breanne is the inventor and owner of The Ink Stand and she is LOVELY. She reached out to me not too long ago and asked if she could send me a few and I said heck yes. I'd been trying to order them from SSS for a while but they kept selling out before I'd get an order together LOL! So now I have a few and will DEFINITELY be getting more: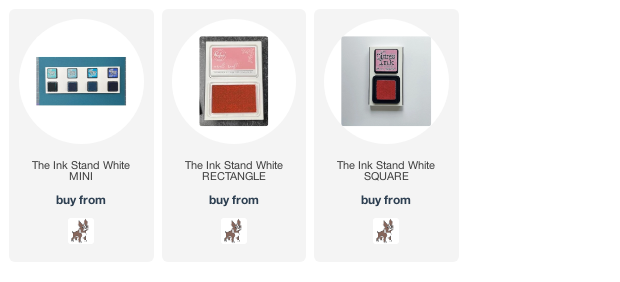 OK now on to the card:
This was so much fun to make and I love this Distress combo - Prize Ribbon, Wilted Violet, Picked Raspberry and Abandoned Coral. I used CZ Design's Silhouette Sentiments set and stamped and heat embossed the silhouettes onto some Distress watercolor cardstock before blending on the Oxide inks using Simon's new Blender Brushes (also new to me and yeah - I'm loving them).
I used Simon's Slimline Sun Rays stencil over the background which I sprayed with water and picked up with a paper towel. Since Distress Inks react with water I was left with this cool effect. I of course then splattered the inks as well as Perfect Pearl powder all over it for shimmer. And I die cut Lawn Fawn Pearlescent Vellum using Simon's Flickering Butterflies wafer dies to add to the card.
On the inside of the card I stamped the Silhouette image using the same Distress Oxide inks, and I stamped the sentiment and butterflies with Nocturne ink. I pulled out a Doll Pink envelope and stamped the Silhouette image on to that too and that was it!
To see how this card and envelope came together check out my video below:
Or watch in HD over on YouTube HERE <------click!
Follow me on Instagram, Facebook, YouTube! You can also consider supporting me on my Patreon!
I get asked a lot about where to purchase the supplies I use in my videos and blog posts. I list all the supplies I use at the end of my posts (below) or in the description box directly below my video on YouTube.
Compensated affiliate links used when possible at no extra cost to you. Affiliate linking is what keeps my blog and YouTube channel up and running and enables me to work from home and provide for my children! I appreciate your support more than words can say! I occasionally receive product for free from stores/manufacturer with no obligation on my part to use/review - I only use and share what I personally love. Everything else I purchase myself!