Ahhhhhh it FINALLY showed up!! I mentioned many many MANY times that I've been waiting for a huge Tim Holtz Halloween order that I'd placed (and had shipped out) almost 2 months ago!! I don't know what was going on with the USPS but this package circled Chicago for WEEKS before they just decided to send it back to SSS (even tho my address was right below and larger than SSS's address.....🤷🏻‍♀️🤪🤦🏻‍♀️🤬). Anywho - SSS shipped it back out to me the same day (I e-mailed their customer service explaining what the tracking was saying so they kept an eye out and re-sent it out the second it showed up - their customer service team is one of the best IMO!).
Anywho - it's less than a week till Halloween and I have this PILE of awesome Halloween products show up:
You can watch in HD over on YouTube HERE <-------click!
I included a couple of the Tim Holtz Christmas goodies that I'd ordered much more recently (and that showed up no problem.....lets hope the USPS and now Canada Post and their strikes get everything figured out and working smoothly again!) as they are amazing and y'all need to see them! ;) 
If you haven't checked out all the awesomeness that Tim Holtz and Stampers Anonymous have been up to you can find it all HERE <---------click!
And here's links to everything:
 I get asked a lot about where to purchase the supplies I use in my videos and blog posts. I list all the supplies I use at the end of my posts (below) or in the description box directly below my video on YouTube. 
Compensated affiliate links used when possible at no extra cost to you. Affiliate linking is what keeps my blog and YouTube channel up and running and enables me to work from home and provide for my children! I appreciate your support more than words can say! I occasionally receive product for free from stores/manufacturer with no obligation on my part to use/review - I only use and share what I personally love. Everything else I purchase myself!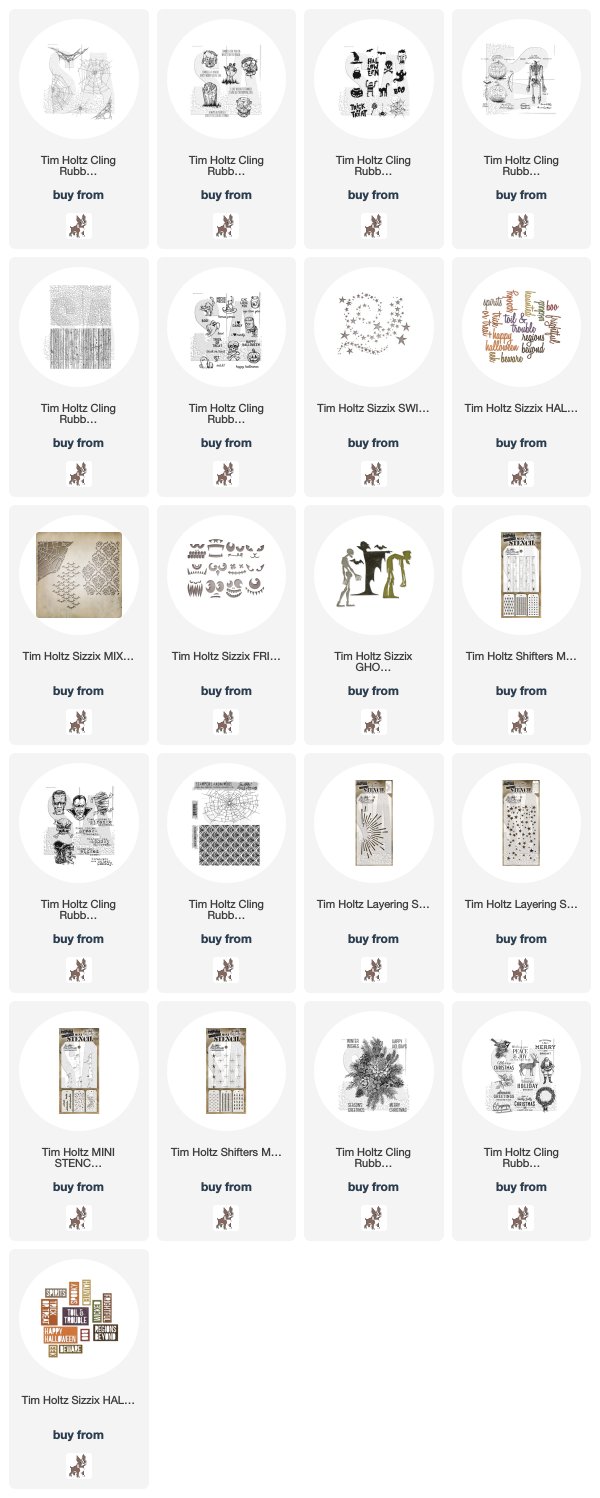 Now of course about the GIVEAWAY!
I am giving away this brand new Tim Holtz Scared Silly Stamp Set & Halloween Words Thinlets Die set to one lucky winner!! I apologize that by the time the winner is chosen and contacted and I send this out Halloween will be over but you can either save it or start early for next year lol! 
To be entered all you need to do is follow the steps in the Rafflecopter widget below (please make sure you're using a current e-mail address that you check frequently (I don't keep/see any person info other than the winner's e-mail address) as that's what I use to contact the winner!).